$200 Off a Culligan Aquasential™ Water Softener
Enjoy spot-free dishes, longer-lasting appliances, and better-tasting water today!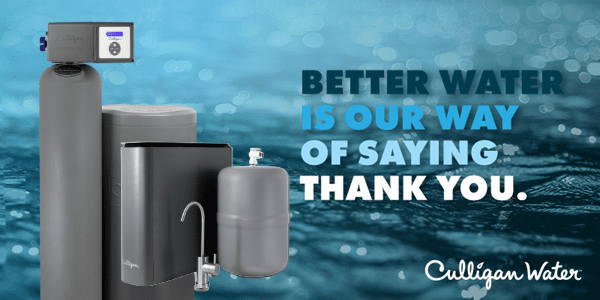 As a current Culligan customer, we want to help you save water in your home. Based on our records, we can achieve that by replacing your current water softener with a new Culligan® Aquasential™ High Efficiency Water Softener.
Advancements in Culligan's category-leading technology have improved salt and water efficiency by up to 46%* - more than any other softener brand. Compared to conventional water softeners, a Culligan® Aquasential™ HE water softener with Smart-Sensor® Technology will save up to 20,000 gallons of water and two tons of salt over the span of 10 years.**
Offer expires 12/31/2021. Only one coupon per household. Dealer participation may vary. See dealer for details. Limited time offer. ©2021 Culligan International Company.
Save with this limited time offer: $200 off the purchase of a Culligan® Aquasential™ HE Water Softener.
Learn more about how you can have better water.
Latest
Blog Posts
Give the gift of great-tasting, high-quality water this year! Get started with a free water test from your local Culligan
Let's start by learning more about bottleless water coolers. And why they are the perfect solution for your home or
Culligan Las Vegas has an efficient office staff. Deliveries are carefree as you are provided an email or text prior to your delivery date. Delivery driver is prompt and friendly. I would refer anyone who needs a water service to Culligan.

Nancy Lara
- Culligan Customer