$200 Off a Culligan Aquasential™ Water Softener
Enjoy spot-free dishes, longer-lasting appliances, and better-tasting water today!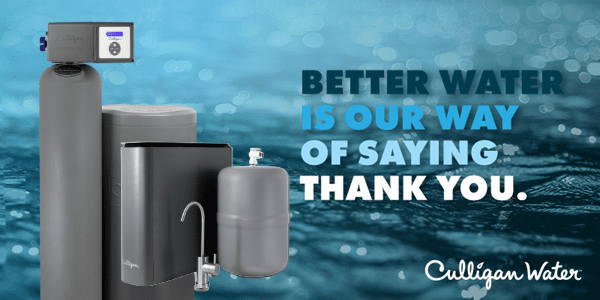 As a current Culligan customer, we want to help you save water in your home. Based on our records, we can achieve that by replacing your current water softener with a new Culligan® Aquasential™ High Efficiency Water Softener.
Advancements in Culligan's category-leading technology have improved salt and water efficiency by up to 46%* - more than any other softener brand. Compared to conventional water softeners, a Culligan® Aquasential™ HE water softener with Smart-Sensor® Technology will save up to 20,000 gallons of water and two tons of salt over the span of 10 years.**
Offer expires 12/31/2021. Only one coupon per household. Dealer participation may vary. See dealer for details. Limited time offer. ©2021 Culligan International Company.
Save with this limited time offer: $200 off the purchase of a Culligan® Aquasential™ HE Water Softener.
Learn more about how you can have better water.
Latest
Blog Posts
Culligan Water solutions help you become greener, cleaner and more cost-efficient with your water use. Learn how.
What Are Your Water Resolutions? The new year is a great opportunity to improve your home. And setting water resolutions...
Great service! The installation process was quick and easy. Everyone is super friendly and helpful! The water tastes amazing too!

Zena Cha
- Culligan Customer